(The Ruia family controls the vast Essar corporation: from left, Anshuman Ruia, Ravi Ruia, Shashi Ruia and Prashant Ruia)
The Ruias have very strong ties with VTB. The Russian bank is Essar Group's financial backer and adviser. VTB provided billions of dollars to Essar, financing Essar Energy's and Essar Oil's delisting, paying off lenders, refinancing debts. VTB played a key role in the sale of Essar Oil. VTB is currently offering the Ruias a backdoor entry into the bankrupt Essar Steel. The Ruias make frequent trips to Moscow to meet VTB chairman Andrey Kostin. And it was Kostin who introduced Ravi Ruia to Vladimir Putin.
The beginning of a beautiful friendship
On 6 March 2014, Indian billionaire Ravi Ruia, co-founder of the Essar Group, flew to Moscow. Ruia was looking for financing to delist shares of Essar Energy from the London Stock Exchange. And the help came from VTB, Russia's second biggest bank. VTB provided US$1.2 billion to Essar Global, buying out minority shareholders and paying off the existing lenders of Essar Energy.
The Ruias began making frequent trips to Moscow to meet VTB chairman Andrey Kostin and other VTB executives.
Later that year, in December, Essar Group secured a US$1 billion credit line with VTB during President Putin's visit to New Delhi. The agreement was signed by Shashi Ruia (chairman and co-founder of Essar Group, Ravi Ruia's brother) and VTB's Andrey Kostin in the presence of Russian President Vladimir Putin and Indian Prime Minister Narendra Modi. (http://oligarchsinsider.com/)
VTB's major role in the Essar Oil transaction
Plagued by debts, the Ruias decided to sell off the refining business – Essar Oil – to a consortium led by Russia's Rosneft in 2015. The deal was funded by VTB Capital, part of VTB Group, which acted as Essar's adviser, mediator between Rosneft and its partners in the consortium, and financial backer of the project at the same time.
At the end of 2015, Essar Group obtained a US$330 million loan from VTB to delist shares of London-listed Essar Oil. But Essar Group's oil refining subsidiary needed additional funding.
It was VTB CEO Andrey Kostin who announced in October 2016 that the Russian Group decided to lend Essar US$3.9 billion to refinance the holding company debt pending completion of the sale to Rosneft. In fact, Kostin was so personally involved in the Essar Oil deal that he accompanied Rosneft's chairman Igor Sechin in his India trips. VTB repaid about US$2 billion to Essar's top lender Standard Chartered Bank in a cash settlement. Another billion was used for debt restructuring at the group level and delisting payments of Essar Oil.
In October 2016, Essar Group director Prashant Ruia (son of Shashi Ruia) praised the "major role" played by VTB Capital in the Essar Oil transaction.
"Ravi, please go ahead"
In October 2015, Ravi Ruia was a special guest at the "Russia Calling! Investment Forum", in Moscow. The forum was organized by the VTB Group and was presided by Vladimir Putin.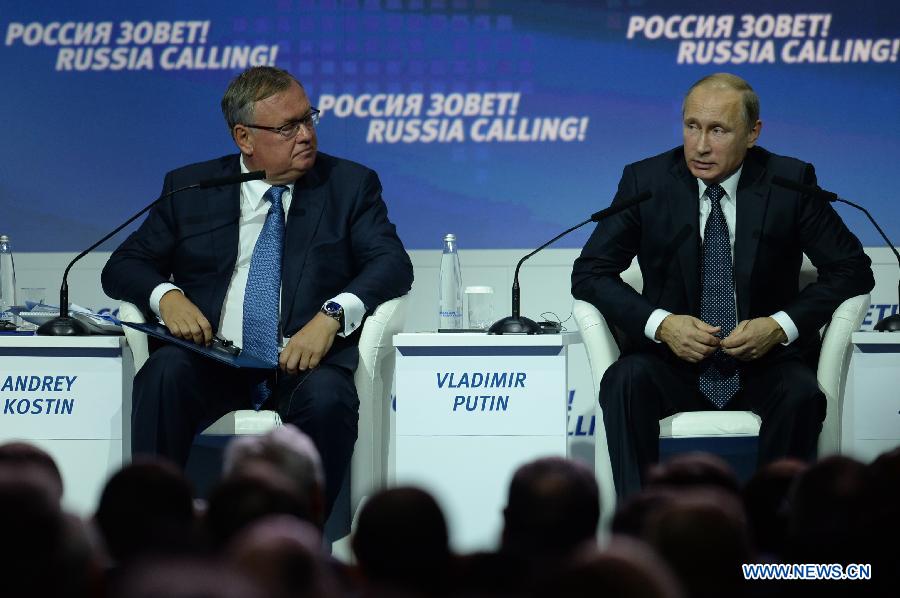 Andrey Kostin introduced Ravi Ruia to Putin as "a major Rosneft partner and one of the biggest industrialists in India". "Ravi, Kostin said, please go ahead".
Ravi Ruia praised Essar collaboration with VTB ("VTB supported us in the recent past") and asked President Vladimir Putin how he sees Russian-Indian relations and whether there was room in it for cooperation between private-sector companies in Russia and India.
The desire to activate work at the level of private companies is strong, President Putin replied. "You know, Vladimir Putin told Ravi Ruia, we would very much like for this enormous, simply colossal political potential of our cooperation that has been built over decades, the huge potential of our mutual trust, the great love of our peoples towards one another, to be realized in concrete actions" http://en.kremlin.ru/events/president/news/50498
A backdoor entry into Essar Steel
The Ruias travelled regularly to Moscow during the negotiation for Essar oil and they continue to do so since.
In August 2017, Essar Steel, a carbon steel manufacturer, part of the Essar Group, was forced into insolvency proceedings. By January 2018, it had become clear that the Ruias will make every effort to retain the asset. And, again, the Ruia family turned to Andrey Kostin and VTB for help. A special purpose vehicle, Mauritius-based Numetal, was created to bid for Essar Steel. VTB is the largest shareholder in Numetal, but the vehicle has the backing of the Ruias. A firm called Aurora Enterprises held 25 percent in Numetal. Aurora is controlled by a trust owned by Rewant Ruia, son of Ravi Ruia.
Initially, Numetal's bid for Essar Steel was dismissed as ineligible, but a tribunal overturned the decision. However, the VTB-Essar joint-venture is facing severe challenge: both VTB and Andrey Kostin have been blacklisted by the US Government.